The E-Spring SaaS Index's median EV/Sales multiple has improved slightly since the previous quarter.
Q3 2023 results are consistent with the first half of 2023. However, the improvement is only marginal, reaching 7.54x and representing of 6% increase from June 2023. Let's explore two different perspectives for further insight:
Macro Lens:
The overall economy remains resilient and relatively stable, regardless of inflation and interest rates. However, geopolitical conflicts (Russia-Ukraine, China-Taiwan, and Israel-Palestine) have taken a toll on the economy due to increased uncertainty.
M&A activity was highly active during Q3 2023 compared to historical levels. There were 539 deals in Q3 2023. It is expected that M&A activities in 2023 will be more significant in terms of the number of deals compared to 2022.
The primary driver of M&A deals continues to be Private Equity, whether as a direct acquirer or a PE-backed strategic acquirer or platform acquirer.
Micro Lens:
During this period, the E-Spring SaaS index has seen some "winners" and "losers."
On the losing side, Matterport and Yext have performed poorly, with losses of -54% and -48%, respectively, since June 2023.
Matterport, -54%: While last quarter's results align with forecasts, there appears to be excessive volatility in the business. In July 2023, Matterport laid off 30% of its workforce to achieve profitability. In October 2023, Piper Sandler downgraded it to a lower investment grade.
Yext, -48%: Second-quarter results were in line with estimates, with a slight 2% year-over-year increase. However, investors perceive less value in AI in the business than before.
On the winning side, Splunk, Elastic, and New Relics have shown significant improvement since the last quarter, with growth rates of 38%, 31%, and 30.5%, respectively.
Splunk, 38%: Splunk announced a merger with Cisco Group to bolster Cisco's position as an industry leader. Cisco's offer reached a share price of $157 per share, significantly above the current trading price. The M&A activities brought attention to the company.
Elastic, 31%: Strong performance and beating of estimates contributed to the surge in share prices in the last quarter's performance review.
New Relics, 30.5%: The firm's shareholding committee welcomed two new PE players. The transaction's share price was set at $87 per share, higher than the trading price at the time. The overall results can be partially attributed to the implementation of AI in businesses. Winners have demonstrated improved performance thanks to AI, as announced earlier in the year. In contrast, losers have failed to meet investors' expectations regarding the operational improvements brought by AI.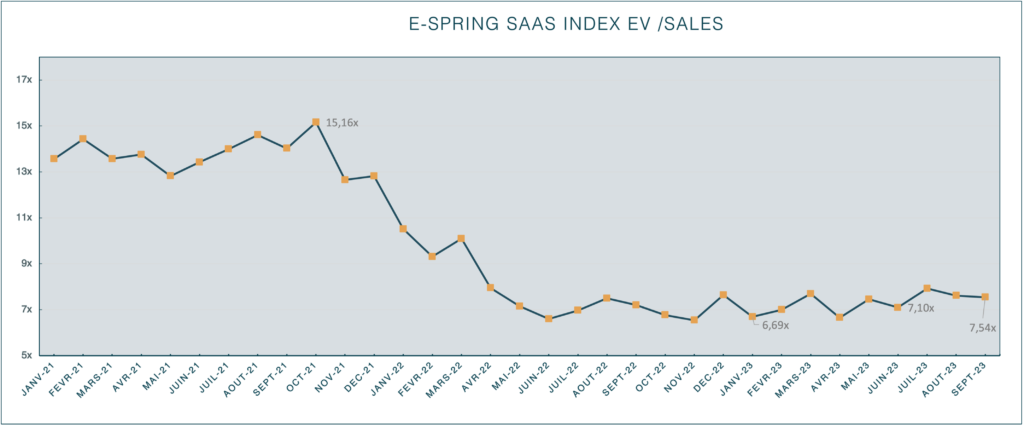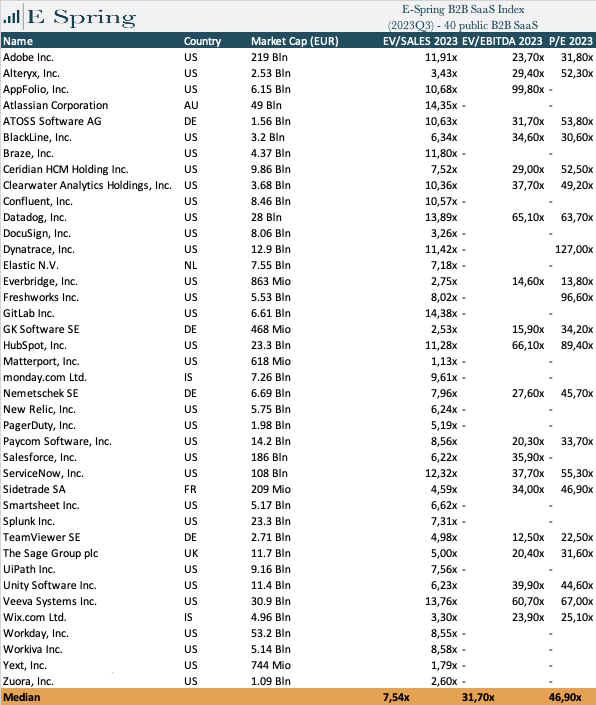 Written by François Mathieu, Associate