Environmental, Social and Governance (ESG) is a framework that defines the three key factors when measuring the sustainability and ethical impact of an investment in a company (MBN, 2023). The framework helps stakeholders understand how the company manages risks linked to the three ESG factors. (CFI, 2023).
The framework is under scrutiny as the literature is quite inconclusive. General critics of the ESG ratings are the lack of consistency in reporting and the lack of material data. For example, Governance and Social metrics are heavily criticized as the real value of proper governance cannot be assessed accurately by box-checking criteria. Furthermore, the sentiment among the criticisms is that only the Sustainability factors should be taken as a focus point. Dissociating the three aspects of ESG should be more valuable to understand the full scope of the three different dimensions englobed in ESG (the Economist, 2022). Aswath Damodaran, a finance professor at Stern School of Business at NYU, stated: "We need to take each individually. Pick the issues that matter the most and have disclosure on what matters the most" (Wealth Management.com, 2023).
Other critics also pointed out that no industry-wide framework is implemented yet. This explains why there is little correlation between the ESG credit rating from one rating company to the other.
However, some groups are emerging and targeting the lack of consistency in ESG reporting. BCG (2022) observed that private companies in the private equity industry have collected and reported key ESG metrics since fall of 2021. Their goal is to achieve a framework that could be useful throughout the PE industry, the ESG Data Convergence Initiative.
Then, in November 2021, the IFRSF set up the International Sustainability Standards Board (ISSB) whose mission is to "develop (…) a comprehensive global baseline of high-quality sustainability disclosure standards to meet investors' information needs" (Deloitte, 2022). The ISSB is emerging as the global sustainability standard setter aiming at consolidating a unique ESG reporting standard. In cooperation with the Global Reporting Initiative, ISSB already published drafts about the mandatory disclosure regarding ESG topics. As of 4th of April 2023, ISSB stated that the focus of their action would first be aiming at climate-related disclosure. The first issuance of the texts is due for Q2 2023 (IFRS, 2023).
Aside from the different initiatives, Researchers are still looking to find new channels and relationships between businesses and ESG metrics. Recent research has validated that some positive correlations exist between ESG performances and different business aspects. Chen & Xie (2022) have found two main conclusions: The ESG disclosure attracts ESG investors but mostly that these investors play a moderating role in the connection between ESG ratings and financial performances. ESG disclosure has, thus, an overall positive effect on corporate finance performances.
A study made by EcoVadis and Bain &Co (2023) validates the new findings by exploring four new vectors through which a good ESG score creates value.
First, companies with more women on the executive team have better financial results (The top quartile has 2% revenue growth higher than the bottom quartile).
Second, the usage of renewable energy by companies that compete in a carbon-intensive industry will yield a higher EBITDA margin.
Third, from a profitability perspective, implementing higher importance on Environmental, ethics and labour practice in the supply chain yield higher results.
Fourth, the satisfaction of employees with ESG leaders is higher. The relationship between happier employees and better financial results is already well-documented in the industry. (5% higher revenue growth and 6% higher margins).
Finally, it seems important to recall that even though ESG is under criticism, positive ESG relationships have been established in previous literature and studies.
As a matter of fact, Koller, Nuttall & Henisz (2019,p. 4) pinpointed 5 different ways that ESG creates value as synthesized in Table 1.
Table 1
Strong ESG position vs weak ESG proposition.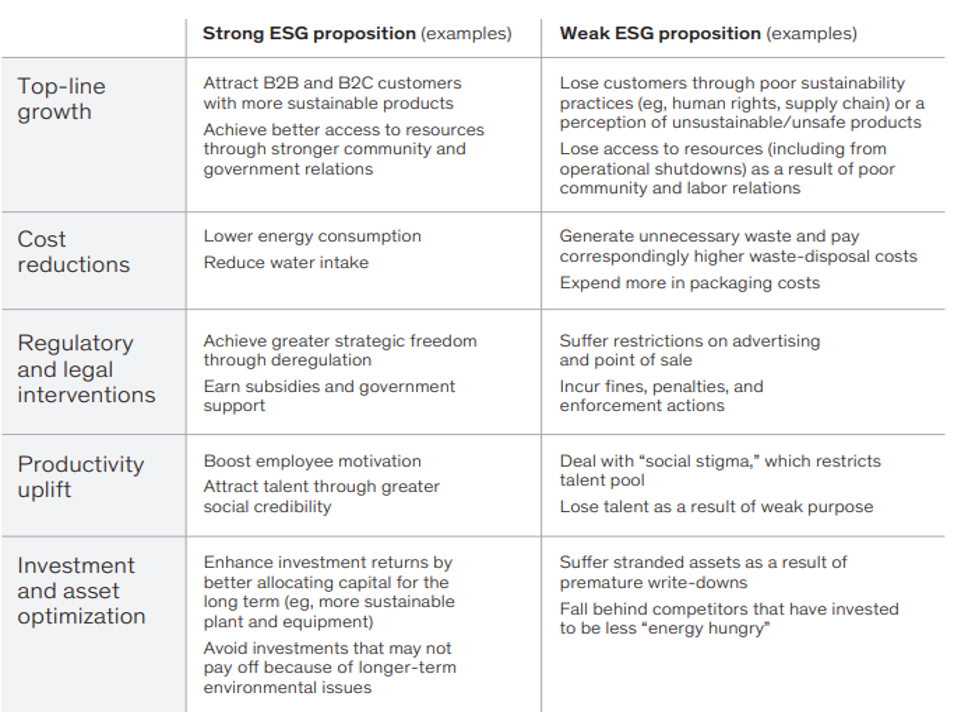 Note. From "Five ways that ESG creates value", Koller, Nuttall & Henisz, 2019.
Additionally, Cornell & Damodaran (2020) show that a good ESG perception will affect the firm via several channels. Notably, bad firms are being "punished" through higher discount rates which mean higher costs of financing compared to the "good" companies being rewarded by lower discount rates. 
To conclude, the ESG framework might not be fully efficient nowadays. However, institutions and the market are slowly getting together to reach to a market-wide consensus. Recent research emphasizes that the value of ESG disclosure and ESG efforts can contribute positively to the financial sanity of the company. Main findings found different channels through which the positive effect is applied notably, mitigation of financing costs, easier way to attract and retain better talents and customers, and higher yield of financial growth and returns.
References:
BCG, (12th October 2022). New Data Shows How Private Equity Stacks Up on ESG. Retrieved from: https://www.bcg.com/publications/2022/private-equity-esg-metrics-reveal-growth-new-data-shows
Chen, Z., & Xie, G. (2022). ESG disclosure and financial performance: Moderating role of ESG investors. International Review of Financial Analysis, 83, 102291.
Cornell, B., & Damodaran, A. (2020). Valuing ESG: Doing good or sounding good?. NYU Stern School of Business.
Corporate finance Industry. (May 2023). ESG (Environmental, Social, and Governance).  Retrieved from: What is ESG (Environmental, Social & Governance)? (corporatefinanceinstitute.com)
Deloitte. (2023) .Globally Consistent ESG Reporting. Retrieved from: https://www.deloitte.com/global/en/about/people/social-responsibility/globally-consistent-esg-reporting.html
EcoVadis. (17th April 2023). Do ESG Efforts Create Value?. Retrieved from: https://resources.ecovadis.com/news-announcements/esg-activities-correlate-to-stronger-financial-performance-reveals-new-study-from-bain-amp-company-and-ecovadis?utm_term=
IFRS. (2023, April 4th). ISSB decides to prioritise climate-related disclosures to support initial application. Retrieved from: IFRS – ISSB decides to prioritise climate-related disclosures to support initial application
Koller, T., Nuttall, R., & Henisz, W. (2019). Five ways that ESG creates value.The McKinsey Quarterly.
Market Business News. (2023). What is ESG? Definition and meaning. Retrieved from : What is ESG? Definition and meaning – Market Business News The Economist Newspaper. (2022, July 21). ESG should be boiled down to one simple measure: Emissions. The Economist. https://www.economist.com/leaders/2022/07/21/esg-should-be-boiled-down-to-one-simple-measure-emissions
Wealth Management. (2023). ESG Advocates Are to Blame for Backlash: Damodaran. Retrieved from: https://www.wealthmanagement.com/equities/esg-advocates-are-blame-backlash-damodaran
Written by François Mathieu, Associate